Manufacturers of Fine Quality Canoes Since 1969
Home
>
Canoe Construction
> Standard/Deluxe
Some Details of our 26' North Country Canoes
Our hand-crafted steam-bend gunwales extend beyond the top of the canoe so that when turned over, the gunwales will support the weight of the boat.

The white trim at the ends is hand polished gel coat and not simply painted on.

The birch bark finish gives the canoe a look of authenticity.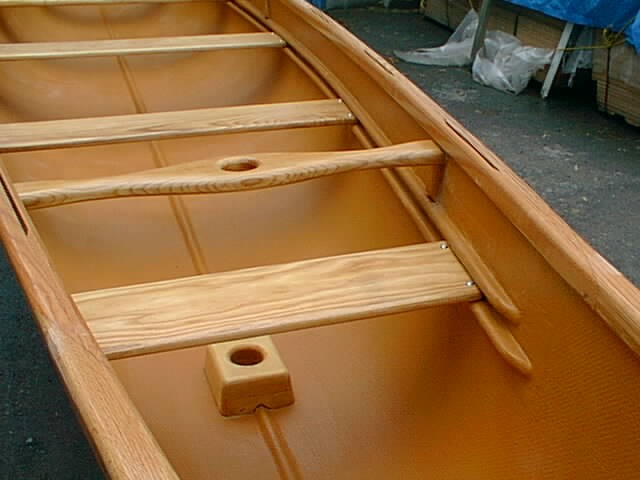 The supports for the mast are fastened with epoxy, and the ash seats are fastened with stainless steel screws. The raised keel provides a foot brace to help smaller paddlers push themselves to one side of the boat. It is included in all 36' boats and is optional in the 26' boats.

Slots in the gunwales permit drainage when the canoe is inverted.

All wooden parts are given 3 coats of the finest marine varnish before they are installed to ensure that all sides are protected and make the deluxe model an object of great beauty
The standard model of the North Country has an integrated, zero-maintenance, fibreglass gunwale, and single seat support stringers.
This model also lacks the mast support of the deluxe model as well as the raised keel, both of these items may be seen in the photo of the deluxe model shown above.